Game Intro
The world of the Rodrim continent with knights, magicians, and fairies is waiting for you. These fabulous and mysterious lands have prepared many trials for players. A unique mix of two genres is now in Puzzle Fight: PvP Wars.
Collect the best squads of heroes under your name and take them through all the trials.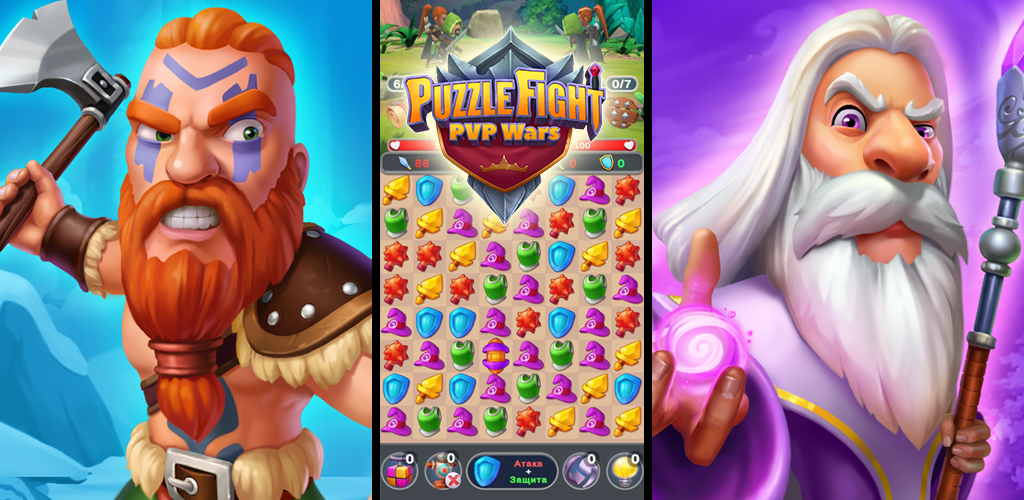 Gameplay
Our Contribution to This Game
Challenges & Goals
The game consists of two mechanics: casual match 3 and mid-core battler with various 3D characters. And the main idea was to mix them and make gameplay smooth and protected from cheating.
There were several issues to tackle & goals to achieve: 
Time to market terms – not more than six months to launch

Synchronize client and server gameplay in conditions of non-stable internet connections to prevent cheating

Mix two different genres in one game
Game development companies on the market estimated the project to be developed at least twice longer. Because game design, functionality, characters, 2D, 3D, and QA takes much time before the product can be launched and tested on the market. 
Solutions & Expertise
To fit the game development phase to a designated term, the team used the Galaxy4games modular system for Unity 3D to build a base architecture of the game. Additionally, new modules for the game were developed separately. The modular engine helps build stable products since modules have already been tested on other launched projects.
There were several options to synchronize client and server gameplay. First, the team used a random seed for the battlefield to check the calculation quickly and be more independent from a stable connection. This option, mixed with an action system, allows the team to make a swift, low-connection acceptable solution.
Mixing different genres usually challenges tools and functionality which fit users' expectations. As a result, some of them work well for a specific audience, and some do not. 
Additionally, all the functionalities should be self-driven and not influence each other's game process much. In this case, the RPG system doesn't give the advantage to win the match3 round. To overcome challenges, our team had separated both gameplays enough but kept them linked.